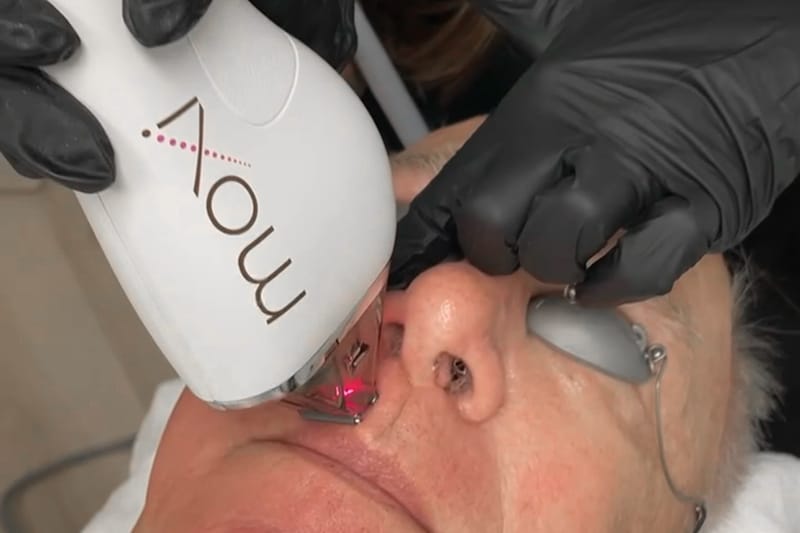 MOXI is the newest fractionated wavelength designed with everyone in mind. This laser is truly customizable to fit your skin care goals! Whether you are looking for a quick refreshing glow to the skin before an event, you want to erase sunspots acquired over the years or you suffer from chronic melasma, having failed other treatments, we will customize a treatment plan just for you!
Depending on the type of treatment needed, recovery can be as little as 1 day, and up to one week for deeper, more corrective treatments. This laser can also be combined with BBL to enhance results of both treatments! Ask us about the MOXI Plus!
This new laser is safe for all skin types and is taking the country by storm. Everyone is asking for it!
Treatment Aspects

Treatment Details

Benefits

1. Correction of Melasma
2. Improved signs of aging including texture and pigmentation
3. Can be used on all skin types

AVG Cost

Starts at $850 

Downtime

Depending on the treatment type, no downtime, or 2-5 days   

Topical Anesthetic Used?

Yes

Treatment Areas

Face and body 
What is MOXI Laser used to treat?
MOXI is used to treat melasma, brown pigmentation, sun damage, uneven skintone, and overall skin texture.
How many MOXI treatments are needed?
For a on-the-go touch up, 1 treatment will get you Glowing and refreshed or touched up in no time! For more aggressive melasma correction or overall treatment of signs of aging, 3 sessions are needed spaced 1 month apart.
Does MOXI laser hurt? 
This laser treatment is very tolerable. The topical numbing applied prior to the treatment makes it even more tolerable. Patients report only mild discomfort during the treatment. A hot or heat sensation is felt for about 10 minutes following the treatment.
What is the downtime for a MOXI Laser Treatment?
For level 1 – Glow on the Go MOXI there is no downtime! This is a perfect option for the week of an event to get your skin absolutely Glowing in just a few short days!

For level 2/3 – Restore & Renew, there is 2-4 days of downtime. Redness is expected the day of treatment, followed by the sandpaper feeling skin for 2-4 days.
How long do results from MOXI laser treatments last?
It's all about prevention. The results from MOXI last months to years, depending on how well you take care of your skin and protect it from the sun! Annual treatments for ongoing maintenance are recommended.
Do I need to do anything prior to my MOXI Laser treatment?
Yes. First, it is important to use strict sun protection prior to any laser treatments. Second, if you are doing treatment for Melasma, you will further enhance your results by pre-treating with Hydroquinone. Third, we ask that you discontinue any topical medications prior to the treatment.
Can MOXI treat darker skin types?
Yes! The MOXI laser can treat all skin types!
Who is the ideal person for MOXI Laser treatments? 
Anyone looking to correct melasma, signs of aging or lighten, brighten and refresh their skin is a good candidate for MOXI.
I've heard of BBL / MOXI combo. What is that and is that an option at Glow?
Yes! We call this our MOXI+ treatment. Combining MOXI with BBL during the same visit will further enhance results and pigment correction. This is ideal for patients with lighter skin tones and freckles or brown spots they would like to see gone.
Is this the treatment Kim Kardashian is talking about?
It sure is! Kim K has recently posted her raving review about how the MOXI Laser keeps her skin glowing. It truly is an awesome treatment. Come see for yourself!
Excellent
4.9
★
★
★
★
★
Based on 162 reviews from
review us on
Helen Lisanti
★★★★★
I was given 3 laser options- i am trying to decide. They were wonderful at my consultation. Very honest about how odd fillers look above lip. I was impressed!
Why Choose Our Med Spa for MOXI Laser Treatments in Lakewood Ranch FL
Glow Dermspa is the prime choice for MOXI Laser treatments in the Lakewood Ranch, Bradenton, and Sarasota areas of Florida. Some notable things that set us apart:
The Perfect Balance of Quality & Price
We pride ourselves on achieving the ideal balance between exceptional service and budget-friendly pricing. Our Moxi Laser treatments not only provide outstanding results but also ensure the best value for your investment.
Trust & Relationships
At Glow Dermspa, we understand that trust is the cornerstone of any successful treatment. Our dedicated team is fully committed to your satisfaction and well-being, fostering strong collaborations that ensure you feel appreciated and supported at every step.
Legendary Customer Service
With nearly 20 years of customer service expertise, we're confident you'll be delighted with our attentive care and personalized approach. We aim to make every visit to Glow Dermspa a unique and positive experience.
Safety, Our Top Concern
Your safety is always our primary focus. Our laser specialists deliver natural results tailored to your unique needs, creating a safe and enjoyable atmosphere for you to explore and experience new services.
Experience & Integrity
Glow Dermspa is built on Dr. Emily Arsenault's esteemed reputation for dermatology excellence in the Lakewood Ranch, Bradenton, and Sarasota areas of Florida. Our med spa represents her unwavering commitment to credibility and client satisfaction. Rest assured that your Moxi Laser treatments are in the hands of skilled professionals.
Empowering Through Education
At Glow Dermspa, we emphasize education to create knowledgeable clients. We understand that deciding on Moxi Laser treatments is an important choice, and we're here to provide expert advice and assistance. With each appointment, you'll gain a better understanding of your alternatives, ensuring you leave feeling confident in your decision and ecstatic about the results.
MOXI Laser Specials & Events
Experience our outstanding seasonal and monthly discounts on injectables and other skincare treatments at Glow Dermspa! We're happy to extend special rates and price reductions on sought-after procedures like Moxi Laser, Radiesse Fillers, Vbeam PDL Laser, Dermaplaning and more, allowing you to achieve your aesthetic vision without overspending.
Our focus on empowering clients with knowledge inspires us to host regular events that provide information and insights on the wide variety of products and services we offer. Take part in these engaging sessions, where our expert team will impart wisdom, address your questions, and even perform live demonstrations. Network with fellow enthusiasts while discovering up-to-date trends and novel approaches.
Interested in MOXI Laser?
You May Also Like:
Scroll → to see full comparison
*Starting cost only – actual cost depends on your goals, specific customized treatment plan, current skin condition and number of recommended treatments.